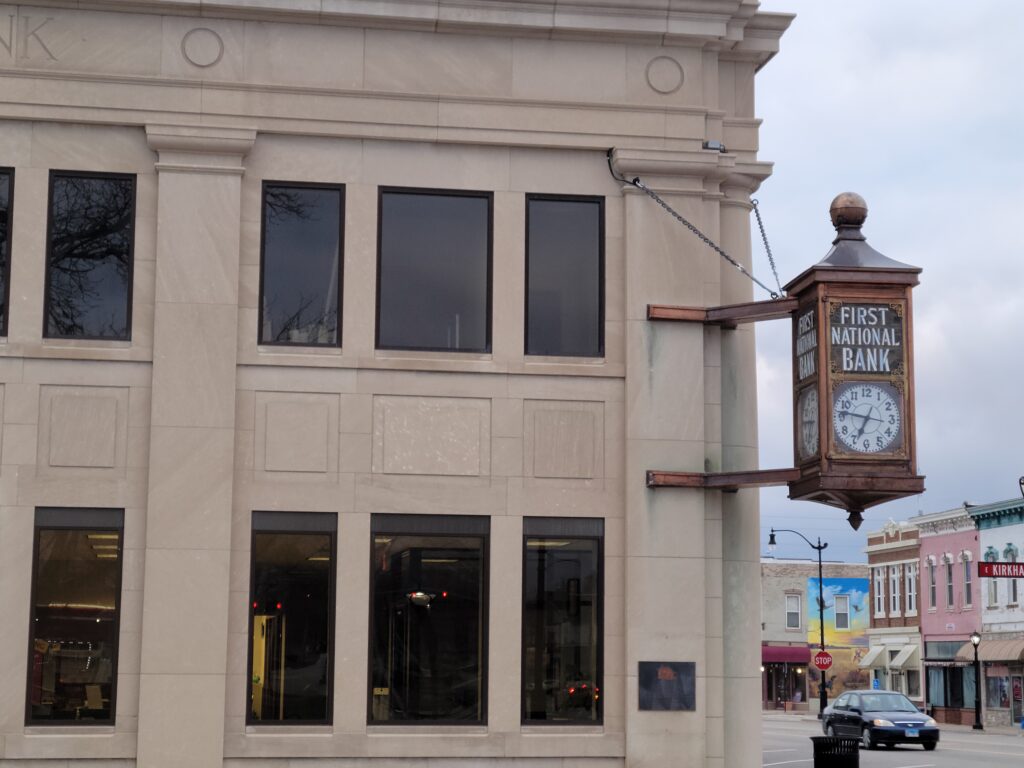 Western Specialty Contractors – Springfield, IL Branch cleaned, restored and waterproofed the limestone façade of Litchfield, Illinois' historic First National Bank in preparation for the return of its iconic corner clock.
Located on the southeast corner of N. State and E. Kirkham Streets, the First National Bank of Litchfield has been at the same downtown location since 1860, when it was operated as a private bank until receiving its National Bank Charter in 1889. The bank is most identified by its large, ornate brass and stained-glass corner clock.
Bank officials decided to restore the bank's façade to coincide with the antique clock's restoration. While the clock was with The Verdin Company for a six-month restoration, the building's façade work got underway.
Western's experts used a proprietary cleaning material devised in the field to clean the 163-year-old building's limestone façade, plus the masonry façades of its connecting buildings. Crews also tuckpointed various areas of the buildings, made minor stone spall repairs where needed, and re-caulked and wet-glazed all the buildings' windows.
Western's scope of work also included cleaning and coating the bank's base and caulking where the sidewalk meets the building. Crews then applied water repellent to the entire building and performed some railing and post painting. Western was re-hired several months after the façade restoration was complete to install anchorage to secure the restored clock on the building's corner.
The façade project started in April 2022 and was completed in two months, on schedule and within budget. The clock was reinstalled in November of that same year.
About Western Specialty Contractors
Family-owned and operated for more than 100 years, Western Specialty Contractors is the nation's largest specialty contractor in masonry and concrete restoration, waterproofing, and specialty roofing. Western offers a nationwide network of expertise that building owners, engineers, architects, and property managers can count on to develop cost-effective, corrective measures that can add years of useful life to a variety of structures, including industrial, commercial, healthcare, historic, educational and government buildings, parking structures, and sports stadiums. Western is headquartered in St. Louis, MO, with 30 branch offices nationwide and employs more than 1,200 salaried and hourly professionals who offer the best, time-tested techniques and innovative technology. For more information about Western Specialty Contractors, visit https://WesternSpecialtyContractors.com.