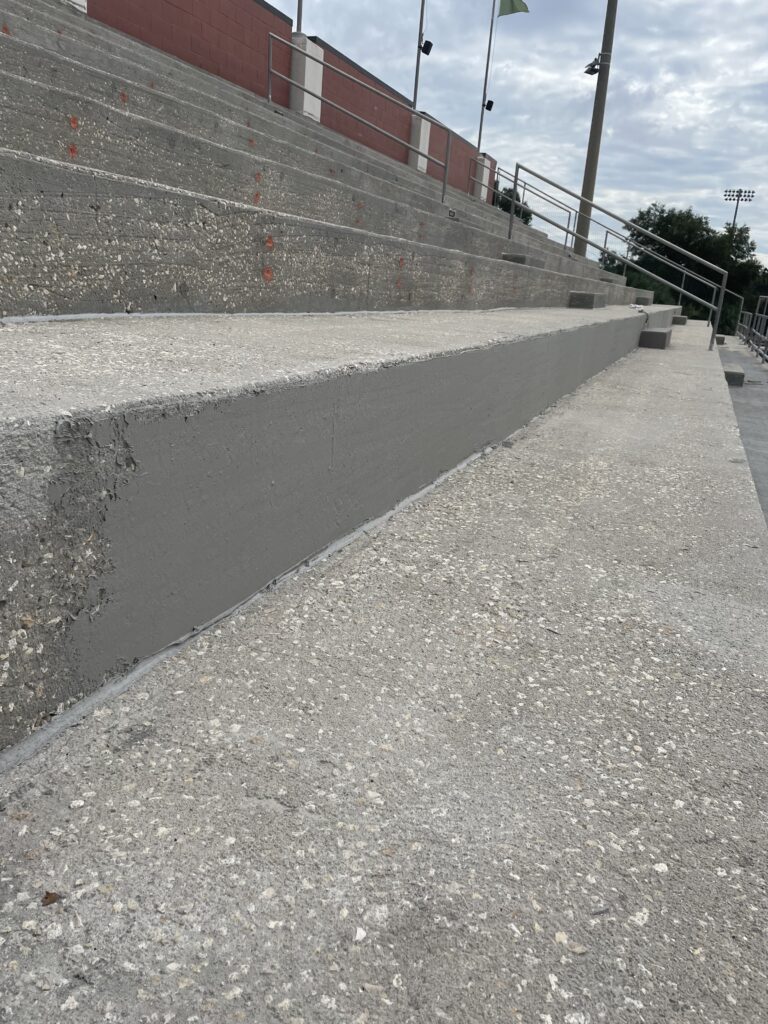 Often referred to as one of the most picturesque and fan-friendly college baseball stadiums in the nation, Western Specialty Contractors – Orlando Branch recently completed improvements to Stetson University's Melching Field stadium in DeLand, Florida.
Home to the Stetson Hatters, Melching Field opened in 1999 and features a full-service concessions area and bench seating for 2,500 spectators with grass berms for approximately 500 additional fans.
Upon the initial evaluation, the red brick and stucco stadium demonstrated signs of weathering and wear and tear. As a result, Western Specialty Contractors was contracted to perform the following improvements:
Remove previously existing traffic coating
Prepare the delaminated concrete for a new traffic coating
Perform stair tread and riser resurfacing before coating application
Install expansion joints
Apply a new Sikalastic pedestrian coating system
Western's concrete experts faced several challenges on the project, including removing the existing urethane coating system. Western used hydro-demolition methods to safely and effectively remove the old system without causing extensive damage to the stadium's concrete, particularly on its vertical surfaces.
"Stair riser resurfacing was necessary on a variety of different locations, which provided a new challenge for the foreman to properly demonstrate how to properly prepare the concrete surface and apply a feathergrade skim coat on all of the affected areas with efficiency," said Anthony Santiago, Western Project Manager.
The moisture in the concrete during the project's rainy season also posed a challenge, with the concrete's moisture readings averaging 5%, determining when the best time to install the coating to the concrete surface was a constant battle.
Originally resurfacing all vertical surfaces utilizing a two-component epoxy product under the drastic climate shifts caused outgassing of the material, which left bubbles in the finish. Western's experts determined that utilizing a unique feather-grade, single-component material would maintain the most consistent finish for the project.
"Sikadur®-31 epoxy was initially anticipated to be utilized as a concrete finish before the urethane coating. Although the product showed promise on resurfacing vertical stair risers, it was not the most effective in a turn-key project," said Santiago. "The solution was to apply SikaQuick® Smooth Finish bag mix, which proved more efficient in installation and turnaround as it virtually provided the same attributes as the epoxy for the intended use. The product transmitted a smooth, consistent look into the urethane coating at vertical sections of the stadium."
Western's innovative solution reduced the overall project cost and allowed the team to complete the project on schedule.
About Western Specialty Contractors
Family-owned and operated for more than 100 years, Western Specialty Contractors is the nation's largest specialty contractor in masonry and concrete restoration, waterproofing, and specialty roofing. Western offers a nationwide network of expertise that building owners, engineers, architects, and property managers can count on to develop cost-effective, corrective measures that can add years of useful life to a variety of structures, including industrial, commercial, healthcare, historic, educational and government buildings, parking structures, and sports stadiums. Western is headquartered in St. Louis, MO, with 30 branch offices nationwide and employs more than 1,200 salaried and hourly professionals who offer the best, time-tested techniques and innovative technology. For more information about Western Specialty Contractors, visit https://WesternSpecialtyContractors.com.