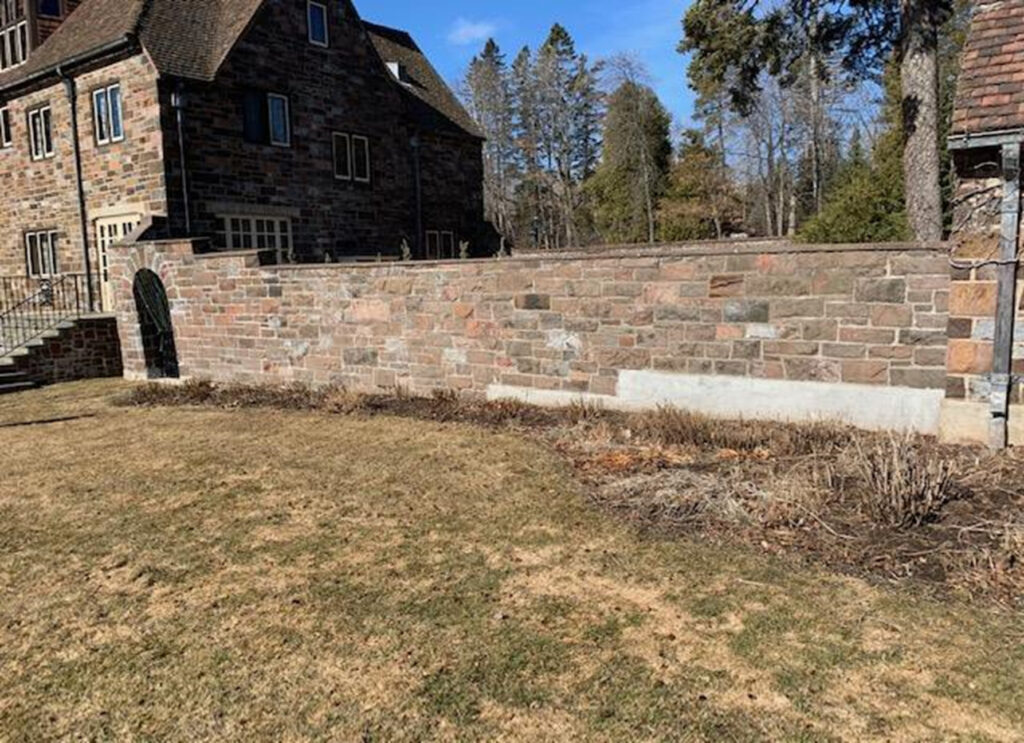 Western Specialty Contractors – Minneapolis Branch was given the opportunity to restore and make repairs to the original stone courtyard wall at historic Lochmoor Mansion on the shores of Lake Superior in Duluth, MN. Built in 1929 by Duluth mining magnate Chester Congdon, the English Tudor-style home was a gift to his daughter Marjorie.
The home's current owners have worked meticulously to restore and preserve the mansion's original character, including the stone wall surrounding its courtyard. Over time, the wall had begun to lean towards the lake to the point that it needed to be repaired and rebuilt, and a portion of the wall surrounding an outdoor fireplace and entertainment space needed tuckpointing.
Western's masonry experts dismantled the 60-ft-long, 7-ft-tall natural stone wall, taking care to mark the exact location of each stone, and rebuilt the lake-facing wall as it was originally constructed, taking care to maintain the arch around a gate opening. A few stones that had crumbled when removed were replaced with other stones found around the property. Western used mortar that had been selected from several samples by the owners the year prior to rebuild the wall and tuckpoint the fireplace area.
"The biggest challenge of this project was obviously maintaining the historic integrity of the stone wall's original construction," said Daryl Carlson, Sales/Project Manager at Western's Minneapolis Branch. "We knew this was important to the owners, and with our experience working on historic masonry structures and buildings, as well as custom-mixing mortars based on historic colors and textures, we were able to rebuild the wall as it would have appeared 94 years ago when it was originally constructed."
Western's crews completed the project in five months and within budget.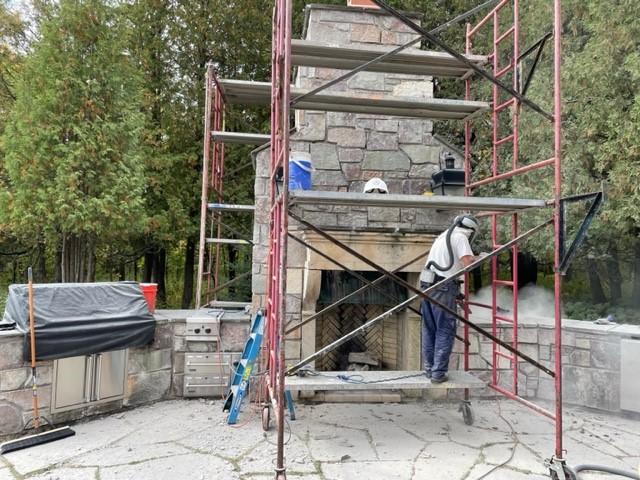 About Western Specialty Contractors
Family-owned and operated for more than 100 years, Western Specialty Contractors is the nation's largest specialty contractor in masonry and concrete restoration, waterproofing, and specialty roofing. Western offers a nationwide network of expertise that building owners, engineers, architects, and property managers can count on to develop cost-effective, corrective measures that can add years of useful life to a variety of structures, including industrial, commercial, healthcare, historic, educational and government buildings, parking structures, and sports stadiums. Western is headquartered in St. Louis, MO, with 30 branch offices nationwide and employs more than 1,200 salaried and hourly professionals who offer the best, time-tested techniques and innovative technology. For more information about Western Specialty Contractors, visit https://WesternSpecialtyContractors.com.