More than 40 years of exposure to the corrosive seaside environment took a toll on this concrete structure.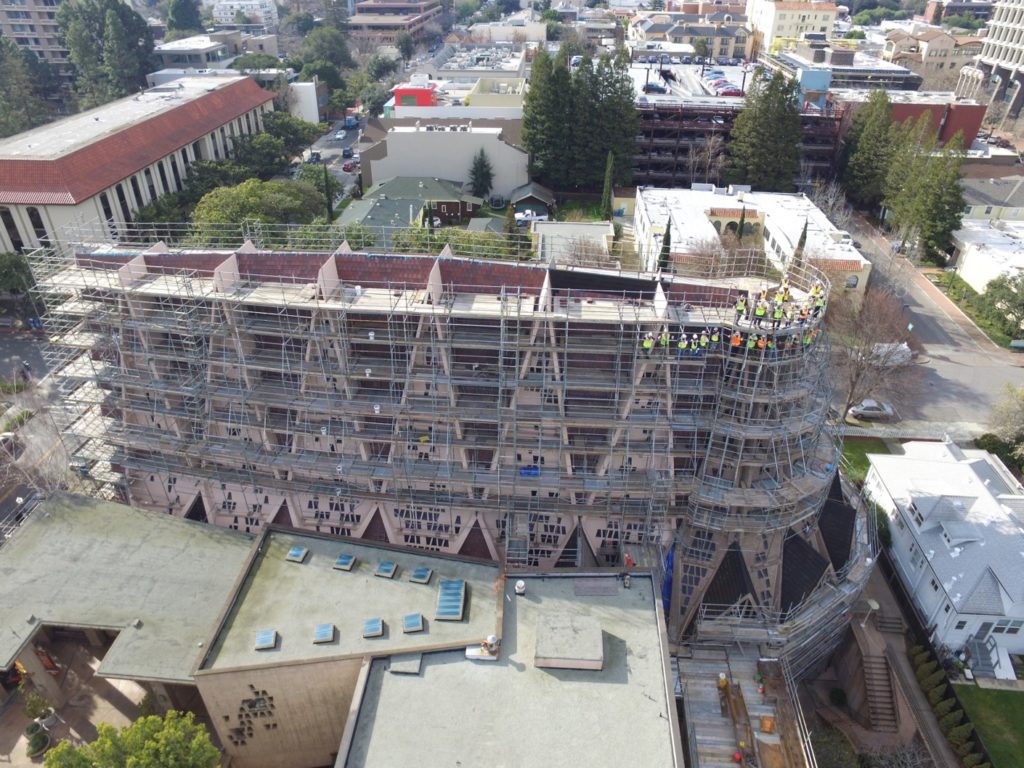 (St. Louis, MO, Nov. 19, 2020) Western Specialty Contractors – San Francisco Branch, partnered with Sika Corp., was honored virtually on Oct. 22 with a 2020 International Concrete Restoration Institute (ICRI) Award of Merit (Special Projects category) for the restoration of the First United Methodist Church of Palo Alto.
The ICRI conducts an awards program each year to honor and recognize outstanding projects in the concrete repair industry. Judging is based on uniqueness, use of state-of-the-art methods and materials, functionality, value engineering, and aesthetics. Entries are received from around the world, and the winning projects are honored each year at the ICRI Fall Convention. Due to COVID-19 concerns, the 2020 Fall Convention was held virtually.
First United Methodist Church of Palo Alto is located in Palo Alto, CA in the San Francisco Bay Area. Established in 1894, the congregation realized in 1957 that it needed a larger, more modern building for services and events. Construction on a new "Contemporary Gothic" style church included 19 poured-in-place concrete columns that extend from beneath the basement-level upward and meeting 73 feet above the main aisle. The roof panels were precast and 1,500 small stained-glass windows were installed throughout. The church can hold up to 1,050 people.
Due to weathering and aging, the church was experiencing water leaks in more than 50 different locations. It was determined that the leaks were caused by the failure of the wet seals around the stained-glass windows, as well as from cracking and spalling of the building's concrete façade caused primarily by an insufficient concrete cover over the steel reinforcement. The roof membrane under the tile was also failing. The congregation agreed to take steps to repair the church to mitigate further damage.
Western Specialty Contractors' crew, partnered with Sika Corp., a leading supplier of specialty chemical products and industrial materials for the construction industry, were faced with several challenges on the project. First, the crew had to assemble an engineered frame scaffolding system instead of using lifts to access the façade. The next challenge was maintaining the established color pattern when ordering and replacing broken and cracked windows, plus the silicone sealant on hundreds of windows on the concrete roof had to be replaced.
The façade had many spalled areas less than an inch deep in thickness that was addressed with the proper preparation and an application of a high-performance mortar. Deeper spalls were repaired with a form and pour method. The concrete roof tiles were also removed and prior to replacing them, a rubber roofing and waterproofing system were applied. Façade cracks that were visible throughout the structure were addressed with routing and caulking with a urethane sealant. To finalize the project, the building was thoroughly cleaned and an elastomeric façade coating was applied.
With all the challenges faced in completing the project, in the end, Western was able to restore the beloved church's sanctuary to its former glory, with much appreciation from the congregation.
"These type of unique repair and restoration projects don't come around frequently to contractors and manufacturers and when a successful repair leaves a client thankful and satisfied, it makes for a very memorable project. The First United Methodist Church of Palo Alto restoration was one of these projects," said Jon Carden, Western San Francisco Branch Manager. "We were honored to work alongside Sika on this challenging restoration, and thankful to the ICRI for recognizing our expertise and hard work." The project started in spring 2016 and was completed in April 2018.
About Western Specialty Contractors
Family-owned and operated for more than 100 years, Western Specialty Contractors is the nation's largest specialty contractor in masonry and concrete restoration, waterproofing, and specialty roofing. Western offers a nationwide network of expertise that building owners, engineers, architects, and property managers can count on to develop cost-effective, corrective measures that can add years of useful life to a variety of structures including industrial, commercial, healthcare, historic, educational and government buildings, parking structures, and sports stadiums. Western is headquartered in St. Louis, MO with 30 branch offices nationwide and employs more than 1,200 salaried and hourly professionals who offer the best, time-tested techniques and innovative technology.
Media Contact
Jennifer Beidle
314-607-9459
jennifer@jbeidlepr.com