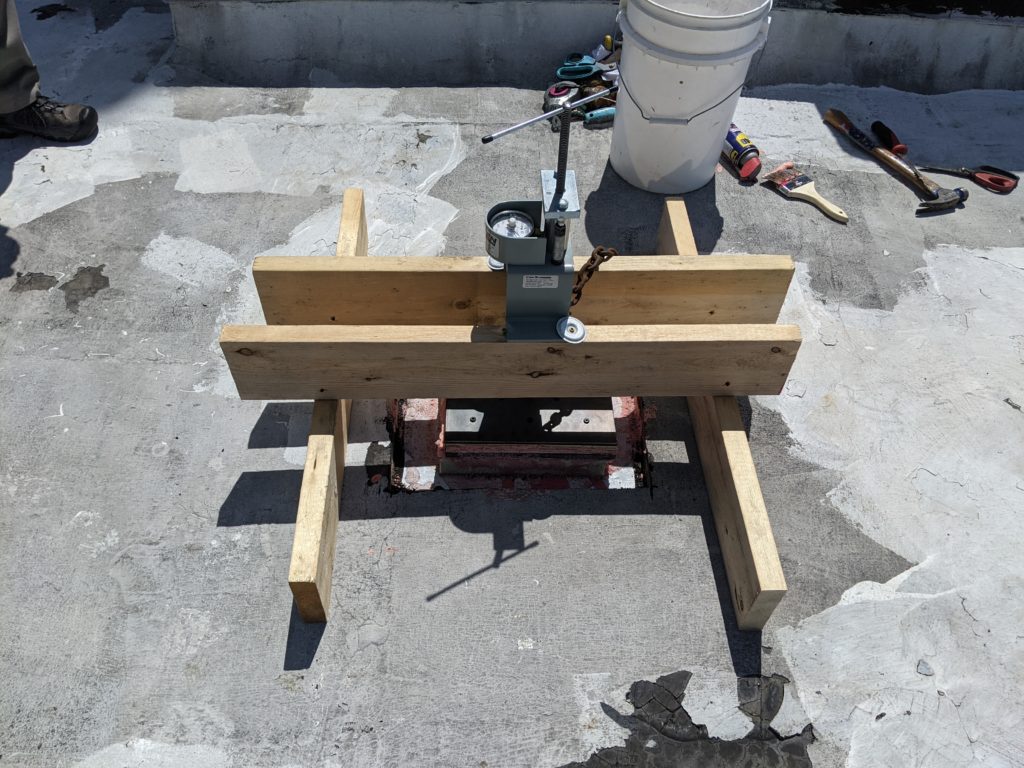 (St. Louis, MO, July 27) Extensive water damage from an aging roof threatened to destroy treasured artifacts housed at the McLean County Museum of History in Downtown Bloomington, IL. The water intrusion resulted from a 30-year-old, damaged roof that had exceeded its useful life span by more than five years, allowing rain to leak through the roof and insulation, clay tile, and mortar down into the building's ceilings and interior rooms.
The nationally accredited, award-winning museum occupies the former McLean County Courthouse, an American Renaissance-style structure built between 1900 and 1903. The building features a limestone-clad facade and solid masonry construction with a steeply sloping roof connecting the built-in gutter to the clocktower dome rising from its center. The old roof consisted of a 4-ply, built-up asphalt roof over one-inch perlite insulation mopped to the clay tile deck.
Although the McLean County maintenance staff had repaired the roof over the years, it no longer functioned properly and needed to be replaced immediately, along with the historic building's drainage system. According to reports, as much as 14 gallons of water had leaked into the building after heavy spring rains, causing extensive damage. Although the water had damaged no artifacts, one area of the museum had to be closed off, and an office relocated due to the leaking roof. a 4-ply, built-up asphalt roof over one-inch perlite insulation mopped to the clay tile deck.

"The entire job was very challenging. We had to stage materials on the grounds as we needed them because the old clay tile deck could not be overloaded. Tearing off the old roof every day was equally difficult because we had to crane materials down and up from the street as we progressed."

Jared Osterman, Western Specialty Contractors Peoria Assistant Branch Manager
In 2020, the McLean County Board agreed to hire Scharnett Architects & Associates of Bloomington to perform architectural and engineering services to replace the building's roof and improve its drainage system. Western Specialty Contractors' Peoria Roofing Branch was contracted to replace the historic building's damaged roof, with work on the project starting in May 2021.
Western's crew removed the old roof and replaced it with a Firestone UltraPly TPO roofing system consisting of an 80 mil white membrane over gypsum coverboard, Polyisocyanurate insulation, and vapor barrier directly over the clay tile deck.
The architect designed the new TPO roof system to go above and beyond what the manufacturer recommended, with double membrane thick valleys and ridges and built-in gutters lined with TPO and terminated with a liquid flashing, three-course step. The liquid flashing was use in place of counterflashing to minimize the use of mechanical fasteners in the historic structure. The job also required a 30-year, 80 MPH Firestone Roof warranty, including hail, cut, and puncture resistance.
Western's Springfield, IL Branch also participated in the project by grinding out reglets, reworking the clay tiles around the drain replacements, and cleaning and sealing limestone at the gutter edge.
Performing a successful mock system pull test to ensure the new roof's viability and strength, Western completed the roof replacement in September 2021. The museum had been closed to visitors during the roof replacement project while its restrooms were remodeled and its lighting fixtures replaced.
Julie Emig, the museum's Executive Director, noted that the staff was relieved when the roof was restored. "The quality of Western Specialty Contractors' work, especially given the complexity of this project, was outstanding. We no longer worry that the next rainstorm could damage our award-winning collections and exhibits."
About Western Specialty Contractors
Family-owned and operated for more than 100 years, Western Specialty Contractors is the nation's largest specialty contractor in masonry and concrete restoration, waterproofing, and specialty roofing. Western offers a nationwide network of expertise that building owners, engineers, architects, and property managers can count on to develop cost-effective, corrective measures that can add years of useful life to a variety of structures, including industrial, commercial, healthcare, historic, educational and government buildings, parking structures, and sports stadiums. Western is headquartered in St. Louis, MO, with 30 branch offices nationwide and employs more than 1,200 salaried and hourly professionals who offer the best, time-tested techniques and innovative technology. For more information about Western Specialty Contractors, visit https://WesternSpecialtyContractors.com.