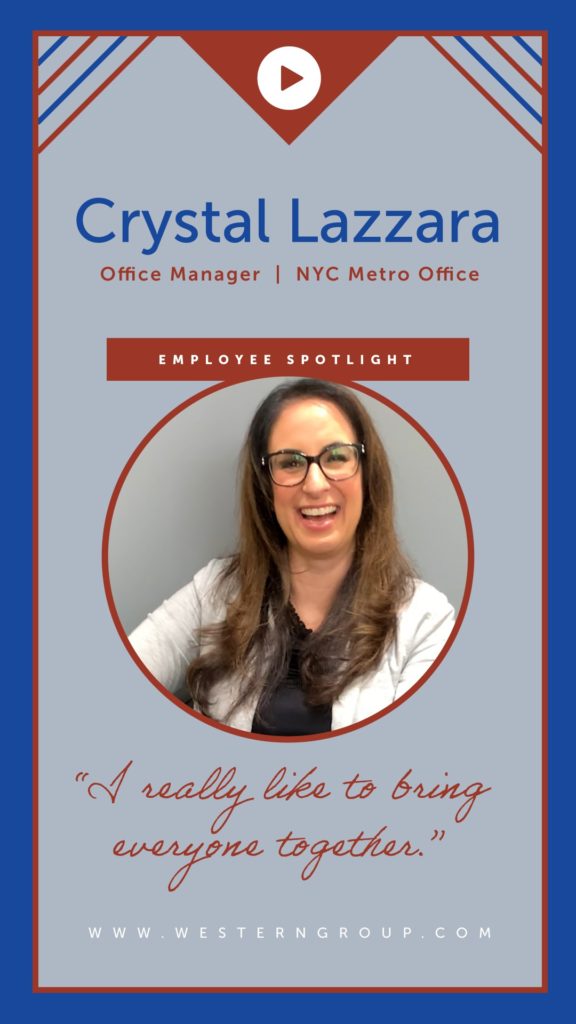 Western would like to recognize Crystal Lazzara as our Employee Spotlight.
Kudos, Crystal—and thank you for being a valued member of the Western team!
---
Q&A with Crystal Lazzara
01
What is your role at Western?
I am the Office Manager for the NYC Metro Branch. My role is to oversee the day-to-day operations of the administrative side of the office. I also assist the PMs, Branch Manager, Region Manager, and Region Controller with any tasks they need assistance with.
02
What do you like most about Western?
I like that although we are a nationwide company, you feel like you are working for a small family run business.
03
What are three words to describe Western?
Welcoming, Family, and Growth. Western is so welcoming to new employees. Once you're here, Western makes you feel like family. There are so many opportunities for growth within Western and it's even encouraged by Corporate. All you have to do is apply yourself!
04
What is your proudest moment at Western?
I would say my proudest moment so far is being selected for this Spotlight. It feels so wonderful to be recognized and praised by my superiors for doing my job. I come to work every day and do the best I can, and it feels wonderful to be appreciated for it.
05
What has been your favorite project at Western?
My favorite project would be bringing the staff together for Team Building excursions, Birthday/Life Celebrations, Office Lunches, and helping with Client events.
06
How did you first learn about Western?
I was casually looking for a job change on LinkedIn and this position had just been posted. I applied and the rest is history!
07
Before working at Western, what was the most unusual or interesting job you've ever had?
I haven't had any unusual jobs, but I think the most interesting to me was when I worked for a Coffee Importer. I learned so much about the process involved with growing, picking, roasting, shipping, and selling coffee beans!
08
What advice do you have for prospective Western candidates?
Be a Team Player and Open Minded to learning. It really does take a team to ensure the success of a Branch and the Company as a whole. Be open-minded to learn from your Peers. There are quite a few Team Members that have been here for many years. When they offer advice, please listen and take it to heart.
09
What have you gained from Working at Western?
I have gained a true sense of the meaning of "Team Player". Western has been the only company I have worked for that truly embodies the term. No matter who you go to for assistance, you will get it. I do not feel alone in my job at all. I have had other jobs that talked about team players and working together, but when I was in need of assistance, I received "That's not my job" responses. I have never heard that while working at Western.
10
What is on your wish list for the next 10 years with Western?
My wish is to continually help my branch, as well as the company grow. Western is already well known in the Specialty Construction industry, but I hope to help it become the absolute #1 choice for any Client seeking Specialty Renovations.
11
If you could switch your job with anyone else within Western, whose job would you want?
I think I would switch with our Controller, Sandrae. I have always loved numbers and Accounting and would love to be in "the thick of it".
12
What about you? What do you personally enjoy?
I truly enjoy anything involving food! I love to cook (and eat!). My husband is a former Professional Chef, and we love spending time together with our daughter making delicious meals. I have a meat smoker that runs all Summer long. I love to cook for people and watch them enjoy what I've made.