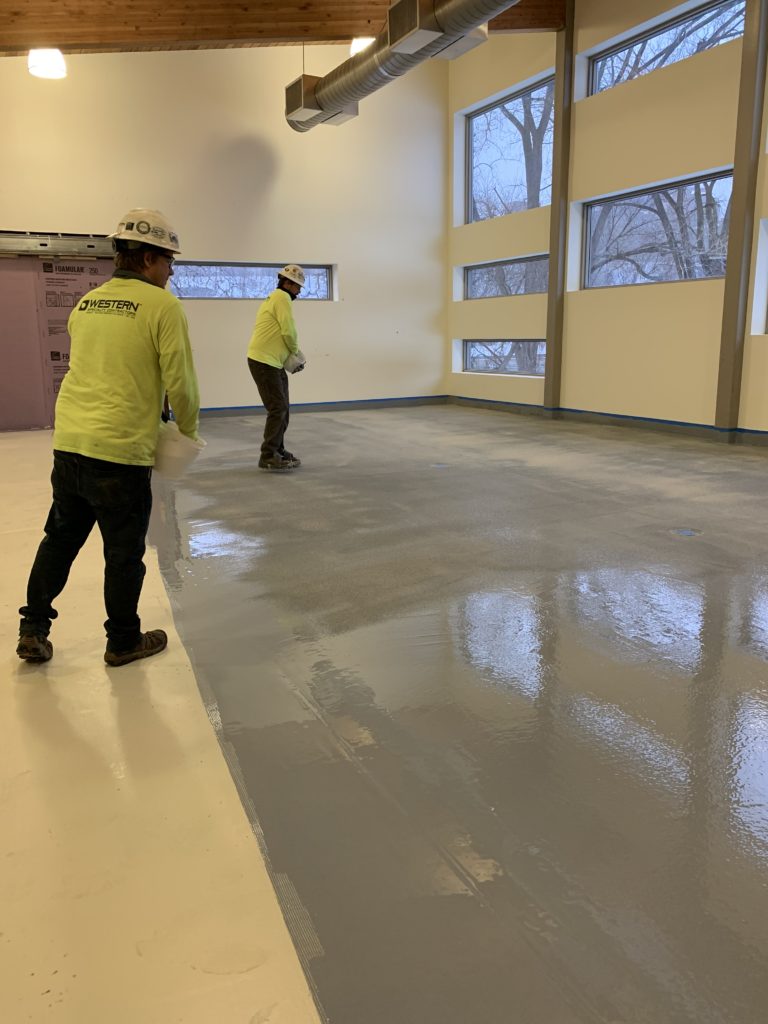 (St. Louis, MO, March 11, 2021) The University of Minnesota is one of few universities in the country to boast an on-campus boathouse. Located on the banks of the Mississippi River, the two-story Irene Claudia Kroll Boathouse features a 35-seat erg room, full locker-room, boat storage, coaches' offices, and indoor tank for the team to practice.
Western Specialty Contractors – Minneapolis Branch teamed up with Minnesota-based General Contractor Gardner Builders to make repairs to the facility's second floor where the 7,500-gallon practice tank is located.
Over time, water that had splashed or leaked out of the tank had seeped through the existing flooring to the space below. The facility had been constructed in 2007 with precast flooring planks and a nonstructural topping slab.
Gardner Builders removed the tank, failed waterproofing, and installed a drainage system for a new tank.
Western's crew then repaired the concrete around the new drains, as well as cracks in the concrete slab where the water had leaked through.
After all the repairs were made, but before the new tank was installed, Western installed a new 125-mil Tremco PUMA waterproof coating system to protect the concrete floor and prevent further water leakage.
"The waterproofing is a very heavy duty and durable system that comes with a 20-year warranty but will actually last much longer than that," said Minneapolis Assistant Branch Manager David Grandbois. "To ensure that the floor was monolithic and free from variances, Western performed an electronic leak detection test on the floor, which found no discrepancies."
Grandbois said the project was challenged by coordinating the timing of the coating application with work performed by the general contractor and the other trades on the job. Because the facility was closed due to COVID-19 restrictions, the construction team did not have to coordinate their efforts around the rowing team's activities.
The project started at the end of November 2020 and was completed in March 2021.
About Western Specialty Contractors
Family-owned and operated for more than 100 years, Western Specialty Contractors is the nation's largest specialty contractor in masonry and concrete restoration, waterproofing, and specialty roofing. Western offers a nationwide network of expertise that building owners, engineers, architects, and property managers can count on to develop cost-effective, corrective measures that can add years of useful life to a variety of structures including industrial, commercial, healthcare, historic, educational, and government buildings, parking structures, and sports stadiums. Western is headquartered in St. Louis, MO with 30 branch offices nationwide and employs more than 1,200 salaried and hourly professionals who offer the best, time-tested techniques and innovative technology. For more information about Western Specialty Contractors, visit https://WesternSpecialtyContractors.com.
Media Contact
Jennifer Beidle
314-607-9459
jennifer@jbeidlepr.com