Western would like to recognize Ryan Boyle as our Employee Spotlight.
Kudos, Ryan—and thank you for being a valued member of the Western team!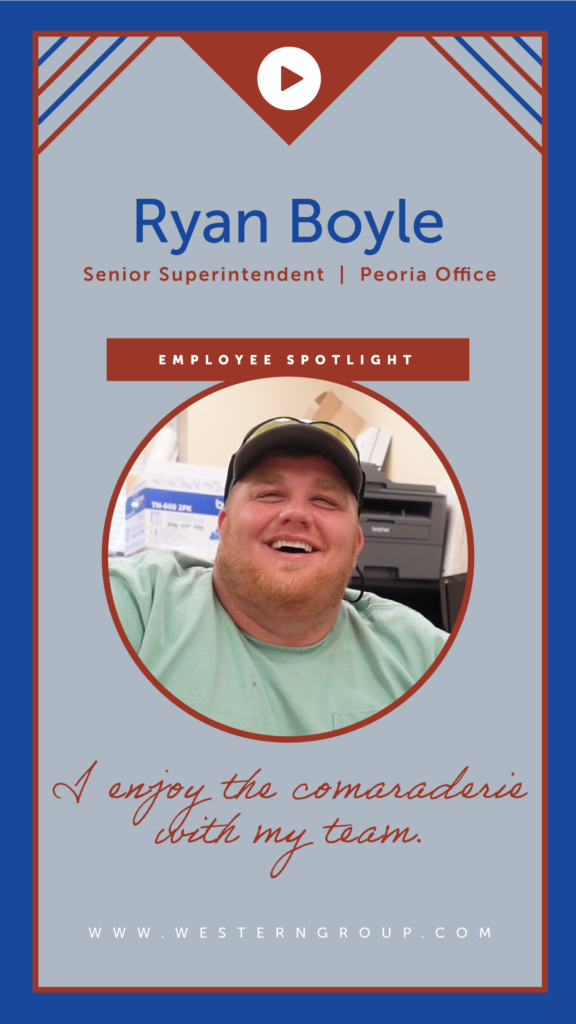 ---
Q&A with Ryan Boyle
01
What is your role at Western?
Senior Superintendent 2
02
What do you like most about Western?
The people that I get to work with.
03
What are three words to describe Western?
Stability. Family. Loyalty.
04
What is your proudest moment at Western?
Having the field crews at the Kansas Ciyt branch recognize all the positive changes and hard work I put in to make there lives easier, and the foreman speaking so highly of me to others at Western.
05
What has been your favorite project at Western?
Cerner Children Learning Center.
06
How did you first learn about Western?
My Father, he has worked here for 38 years.
07
Before working at Western what was the most unusual or interesting job you've ever had?
Master French Pastry Chef at La Bonne Bouchee.
08
What advice do you have for prospective Western candidates?
Take initiative, and work hard for what you want, nothing is given, its earned.
09
What have you gained from Working at Western?
Friends and the amazing ability to schedule on close time restraints.
10
What is on your wish list for the next 10 years with Western?
High Country Crew Truck! >b>(Make sure Tom get this!!) Honestly just to continue to grow.
11
If you could switch your job with anyone else within Western, whose job would you want?
Tom Brooks
12
What about you? What do you personally enjoy?
Love Cooking, Singing, and Golfing, just love to have a good time, and making people laugh!