Western Specialty Contractors – Orlando Branch is nearing completion of a year-long project to restore the façade of historic Peck Center in Fernandina Beach, FL. The scope of work, which includes masonry restoration, structural repairs, & waterproofing, is expected to be completed by the end of February 2023.
Peck Center was originally opened by Professor Moses H. Payne in 1885 as a four-room school building for African Americans, named Colored School No. 1. When he passed away in 1888, Professor Peck was promoted to Assistant Principal and worked to develop the high school's curriculum, with the first senior class graduating from the school in 1891.
Today, Peck Center, which includes an auditorium and gymnasium, is used for different community events, classes and recreational activities. It is also home to several City of Fernandina Beach offices and not-for-profit organizations.
The city of Fernandina Beach contracted with Western to repair and tuckpoint the building's entire masonry brick and stone exterior, taking care to restore the façade to its original condition. The scope of work includes the following:
Removal and replacement of all mortar joints, approximately 75,000 lineal feet
Cleaning of the brick masonry façade with a mild mortar detergent
Installation of new hot-dipped galvanized window lintels/shelf angles
Treatment of existing corroded lintels/shelf angles with new dual component epoxy primer and urethane top coat
Replacement of damaged/cracked bricks to match the existing color & texture
Removal and replacement of all failed/deteriorated window perimeter sealants
Removal and replacement of all failed/deteriorated vertical control joint sealants
Demolition and replacement of all damaged/cracked horizontal accent stones to match the existing coquina rock finish
The $1.2 million façade restoration project started in January 2022. Walker Consultants has served as the engineer of record for this project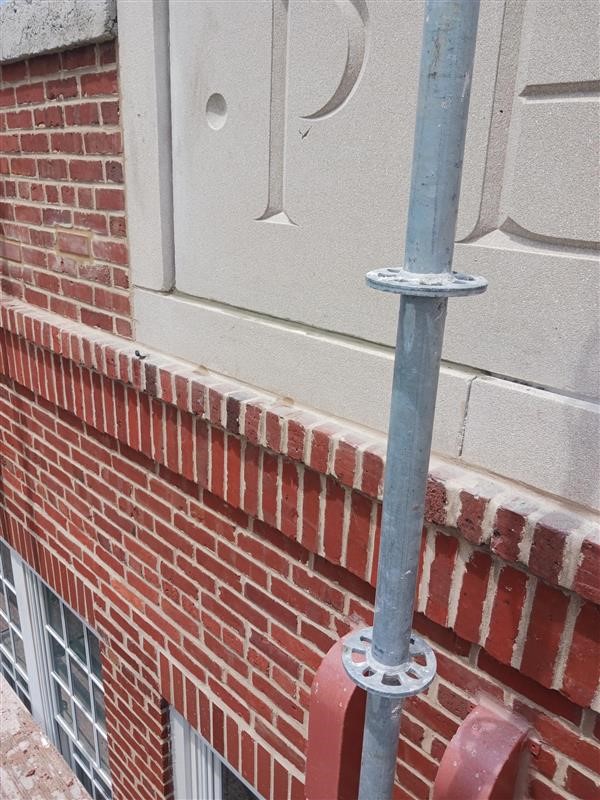 About Western Specialty Contractors
Family-owned and operated for more than 100 years, Western Specialty Contractors is the nation's largest specialty contractor in masonry and concrete restoration, waterproofing, and specialty roofing. Western offers a nationwide network of expertise that building owners, engineers, architects, and property managers can count on to develop cost-effective, corrective measures that can add years of useful life to a variety of structures, including industrial, commercial, healthcare, historic, educational and government buildings, parking structures, and sports stadiums. Western is headquartered in St. Louis, MO, with 30 branch offices nationwide and employs more than 1,200 salaried and hourly professionals who offer the best, time-tested techniques and innovative technology. For more information about Western Specialty Contractors, visit https://WesternSpecialtyContractors.com.