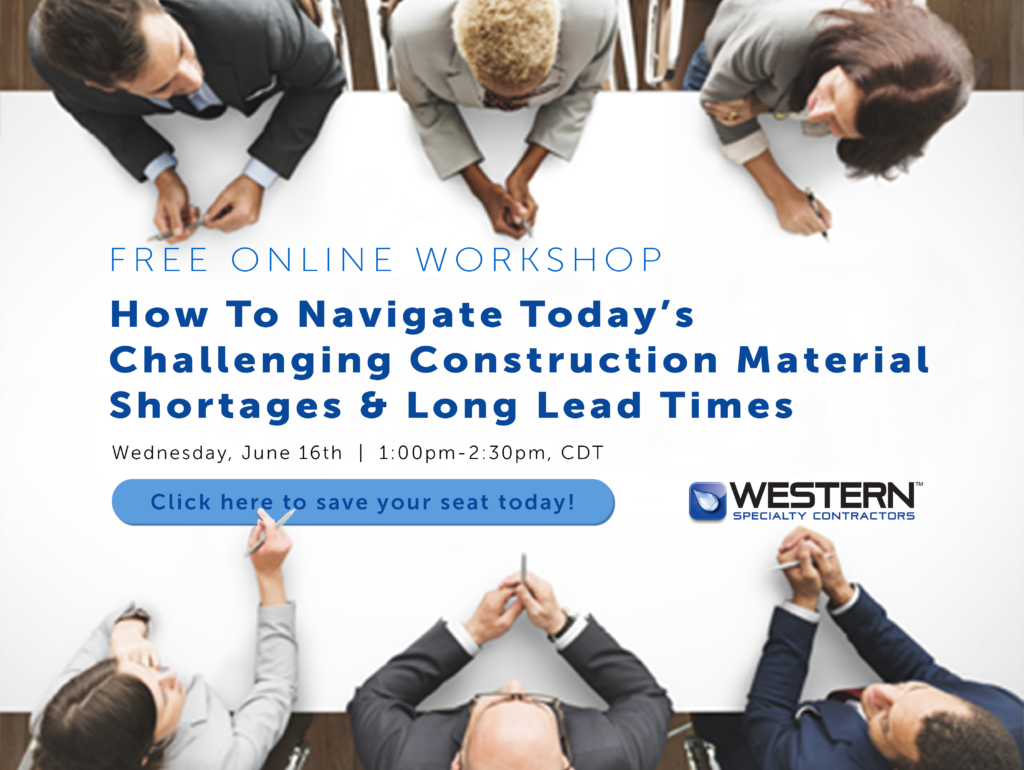 Sika and Rooftech/Pavetech Consultants to participate in June 16 online workshop event
It's no secret that last year's COVID-19 pandemic and shutdown have taken their toll on American production and businesses, leaving facility owners and managers scrambling to get construction work completed on their buildings.
The current construction material shortage, long lead times, and price increases, among other issues, have been attributed to wildfires that have reduced the lumber supply, the pandemic which further slowed production and an increase in construction material demands due to a rise in home remodeling projects.
So, how can commercial business owners and facility managers who need new roofs and repairs made on their buildings cope with these challenging times?
The façade restoration experts at Western Specialty Contractors, along with Rooftech/Pavetech  Consultants and Sika, are hosting a FREE online workshop 1-2:30 p.m. CST on Wednesday, June 16, 2021, to discuss how building owners and facility managers can navigate the current construction climate and keep their capital and operational projects on track.
"We are facing a supply chain disruption which is affecting multiple facets, including getting construction materials in a timely manner. We will talk about why this is happening and how it affects the commercial real estate world, plus provide tips to building owners and property managers on how they can manage this unconventional issue," said Tanya Shepherd, Senior Business Development Manager at Western Specialty Contractors. Shepherd will serve as the Panel Discussion Facilitator for the online event.
Workshop Presenters Include:
Mike Mastro, Vice-President of Sika
Crystal Moyer, Director, National Accounts & Marketing at Western
Cale Prokopf, President of Rooftech/Pavetech Consultants
Aaron Toney, Region Manager at Western
David Grandbois, Assistant Branch Manager at Western's Minneapolis Branch
Keegan Tune, Senior Branch Manager at Western's St. Louis Roofing Branch
Rod O' Bannon, Branch Manager at Western's Kansas City Sheet Metal Branch
To register for the online workshop, visit https://westernspecialtycontractors.com/Challenging-Construction-Climate/.