In the Summer/Fall of 2022, Western Specialty Contractors completed a full patio rehabilitation connected to (2) suites on the 15th Floor of Loews Regency Hotels' New York City location. This prominent hotel, situated on the corner of Park Avenue and 61st Street, was designed by Emery Roth & Sons and built in 1963. Over the years, this hotel has regularly housed celebrities and diplomats from all over the world.
Western was initially brought in to perform a complete facade repair starting back in 2021. While in the middle of this multi-year project, Western was asked to assist in the rehab of the building's 15th Floor guest patios.
The existing patios were in rough condition. The terracotta pavers were cracked, with biological growth coming up between them. The adjacent privacy fence, comprised of a hodge-podge of failing brick masonry and white vinyl paneling, was past its useful life and an eyesore to the guests.
Western began by removing the existing fence and demolishing the terracotta pavers and underlying roofing to expose the structural concrete deck. From there, repairs to the deck and adjacent concrete curb were performed. Additionally, a new concrete curb was poured so a new divider fence could be installed to separate the two patios.
Once the team had completed all removals and concrete preparation, a new 2-layer torch-down roofing system was installed. Following the torch down, fleece-reinforced liquid flashings completed the waterproofing scope. To complete the rehab, a new custom-fabricated aluminum fencing was installed, along with a new concrete paver system set on pedestals.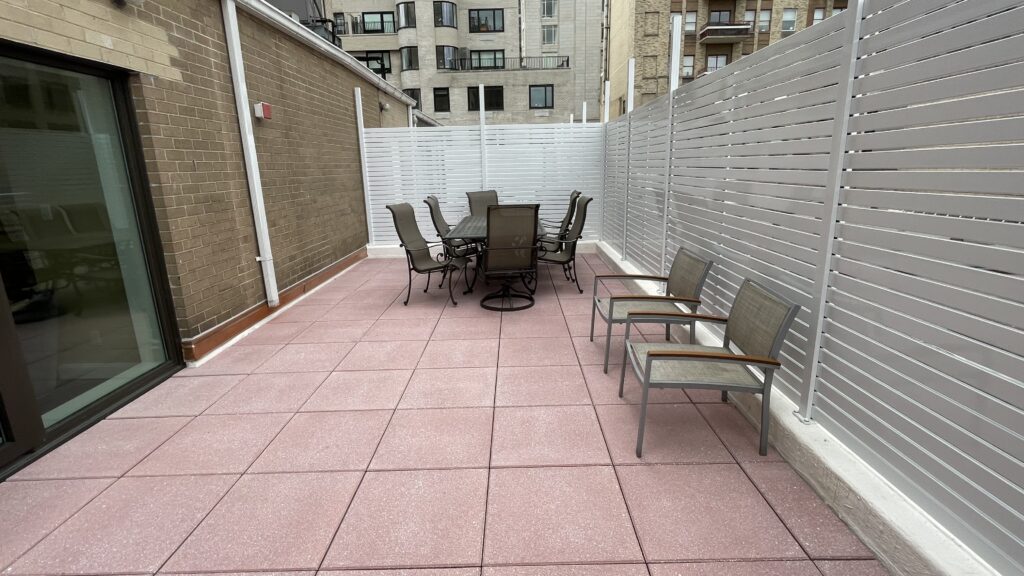 The result was a beautifully updated patio to be enjoyed by future guests for years to come.
About Western Specialty Contractors
Family-owned and operated for more than 100 years, Western Specialty Contractors is the nation's largest specialty contractor in masonry and concrete restoration, waterproofing, and specialty roofing. Western offers a nationwide network of expertise that building owners, engineers, architects, and property managers can count on to develop cost-effective, corrective measures that can add years of useful life to a variety of structures, including industrial, commercial, healthcare, historic, educational and government buildings, parking structures, and sports stadiums. Western is headquartered in St. Louis, MO, with 30 branch offices nationwide and employs more than 1,200 salaried and hourly professionals who offer the best, time-tested techniques and innovative technology. For more information about Western Specialty Contractors, visit https://WesternSpecialtyContractors.com.