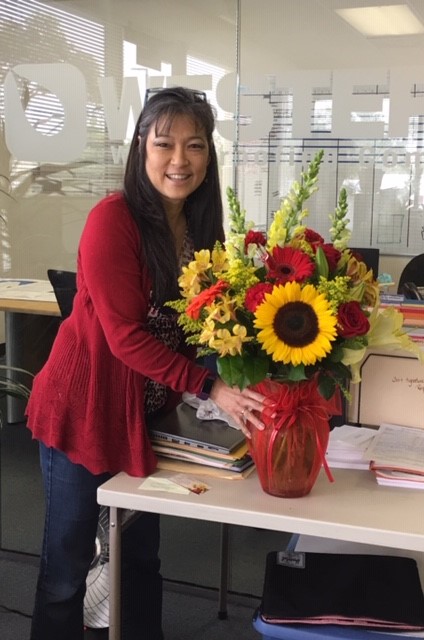 Western would like to recognize Taeko Lemke as this month's Employee Spotlight.
Kudos, Taeko—and thank you for being a valued member of the Western team!
---
Q&A with Taeko West
01
What is your role at Western?
My title is Branch Administrator, but my role is to wear many hats that help the team to work together to accomplish our goals. I assist the team members both in the field and in the office by taking care of tasks that allow them to be more productive and efficient which then makes all of us more profitable.
02
What do you like most about Western?
Without a doubt, it is the people I work with daily at Western, including Western ALL, our Customers, and even my Vendors. I have come to treasure the friendships I have developed over the years with many within the organization, missing them as they move on. Even though miles may separate the Branch from the Home Office, I have always felt a part of the Western Family. Our Customers and even our vendors have become friends who I miss seeing socially outside of work events, due to COVID-19, and I look forward to gathering again.
03
What are three words to describe Western?
Family, Integrity & Quality. From day one, there was a feeling of family, being part of the team not just at the branch level but within the whole company. It became more evident when traveling to the home office for "Welcome to Western." I saw it not as just a training session but truly an opportunity to meet the folks I would be working with regularly. I am also proud to be with a company where integrity and quality are core values. We stand behind our word and our work and it is a blessing to know I work for such a company.
04
What is your proudest moment at Western?
My proudest moment came just last week with the announcement that our project, FUMC, partnered with Sika, has been awarded the Special Project Category Award for ICRI and the project will be featured in the Nov/Dec 2020 issue of Concrete Repair Bulletin.
05
What has been your favorite project at Western?
FUMC has been a favorite restoration project. Watching the teamwork together to come up with solutions to overcome obstacles and deliver professionalism and craftsmanship throughout the project was very rewarding. At the end of the project, I was able to create a presentation that was shown to the congregation during a Sunday service which showed the transformation of the Sanctuary. Once the presentation was concluded they invited Western to come before the congregation so that they could show their appreciation to us.
06
How did you first learn about Western?
Back in 2008, during the recession, my hubby asked if I could find a job that would pay for the time I gave volunteering many hours at my kid's school and my church. So, of course, I looked for a job on Craigslist and came across the ad for a Branch Administrator for Western. From there, I went to the website to learn about the company and was pleased to see that my interest in historical buildings was a discipline listed in projects performed by Western. I quickly sent in my resume.
0I7
Before working at Western, what was the most unusual or interesting job you've ever had?
I worked as a house cleaner for my High School Orchestra Leader in my junior and senior years. Not very glamourous but it did give me a little spending money.
08
What advice do you have for prospective Western candidates?
Give yourself time to learn the culture, language, and the responsibilities of your position. If you allow the time to absorb the knowledge, expertise, and passion of the team members, great things can happen.
09
What have you gained from Working at Western?
A lifetime of stories and experiences of overcoming challenges, rejoicing in the victories, and becoming stronger together even through the losses. Basically "family."
10
What is on your wish list for the next 10 years with Western?
To continue to learn, innovate, and grow in ways that would help my team to be more efficient, effective, and profitable.
11
If you could switch your job with anyone else within Western, whose job would you want?
Western has given me the opportunity to work beyond my traditional admin role and help in Marketing, IT, and even Operations throughout the years. That being said, I would not want to switch jobs for I have already had the freedom to serve the branch in many capacities, first because it was needed to fill in the gaps and now because I am allowed to be part of the innovation and collaboration of my team.
12
What about you? What do you personally enjoy?
I enjoy spending time with my family and friends, whether it is dining together, doing a group project together, or just sitting by a fire and watching the sunset. I also enjoy a good walk or hike in the forest or by any body of water. Basically, spending time outside and soaking in all that I have been blessed with.
Click here to view all of our Employee Spotlights.