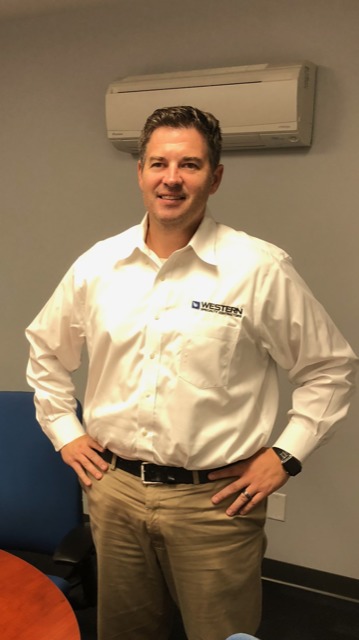 Western would like to recognize Scott Haas as this month's Employee Spotlight.
Kudos, Scott—and thank you for being a valued member of the Western team!
---
Q&A with Scott Haas
01
What is your role at Western?
I am the Branch Manager of Western's Springfield, IL branch office. My team and I specialize in the facade restoration and concrete restoration specialties in Central Illinois.
02
What do you like most about Western?
I like that Western is a family-owned company. Those values shine through in how our company operates day-to-day, and in how the company treats its employees and customers. The family environment that develops between office Teams, and the friendships that develop between peers, is fantastic.
03
What are three words to describe Western?
Forward-thinking, competitive, and collaborative.
04
What is your proudest moment at Western?
My proudest moment at Western was at the end of 2015 when our Springfield office reached Track 1 during my first year as the Branch Manager. I'd heard an old saying long ago that 'it's harder to maintain success than build success'. Jim Rechtin, Jr. built a standard of success during his time as the Branch Manager of Springfield. Keeping that success going was a responsibility I didn't (and still don't) take lightly. It was a tough year for us by some metrics, but thanks to the hard work from the rest of our Team, we jumped into Track 1 in the last month of the year. It was an accomplishment I won't forget, and that football Jim handed me during the Annual Meeting still means a lot.
05
What has been your favorite project at Western?
There are so many great projects to choose from and it's hard to settle on just one. If I have to pick only one, it's probably the Hyatt Regency Parking Garage in St. Louis. It was the first big job that I sold after relocating to St. Louis 02 from Kansas City. It was also my first exposure to hydro-demolition, which was pretty awesome to see in person.
06
How did you first learn about Western?
I first learned about Western during my Junior year in college at the University of Nebraska-Omaha. One of the Division Managers at the time came into my Concrete Technology class and gave a presentation on concrete and concrete restoration. It opened my eyes to another side of the industry (specialty contracting) and got me out of the 'General Contractor' mindset.
0I7
Before working at Western, what was the most unusual or interesting job you've ever had?
Prior to working at Western, my most interesting job was working as a commercial carpenter. We built 3-4 story wood-framed apartment buildings. I learned a lot about construction during those years, and it taught me the importance of craftsmanship and planning ahead.
08
What advice do you have for prospective Western candidates?
Be patient and let your development happen. There's a natural cycle of growth and development in this industry, and it takes time to get comfortable with restoration. If you stay humble and stay patient, it will happen. There's a lot of experience in this company; make it a point to learn from other people.
09
What have you gained from Working at Western?
I've gained lasting friendships, both inside and outside of the company. I've gained knowledge on how to manage a business, and manage a team.
10
What is on your wish list for the next 10 years with Western?
Eventually, I'd like to become a Region Manager if the right opportunity arises.
11
What about you? What do you personally enjoy?
I love spending time with my wife and three daughters. They're the reason I get up every morning. I enjoy watching my wife coach soccer, and I enjoy watching my oldest two daughters play soccer. Outside of family, I love me some Nebraska Cornhuskers football (Go Big Red) and Cardinals baseball.
Click here to view all of our Employee Spotlights.