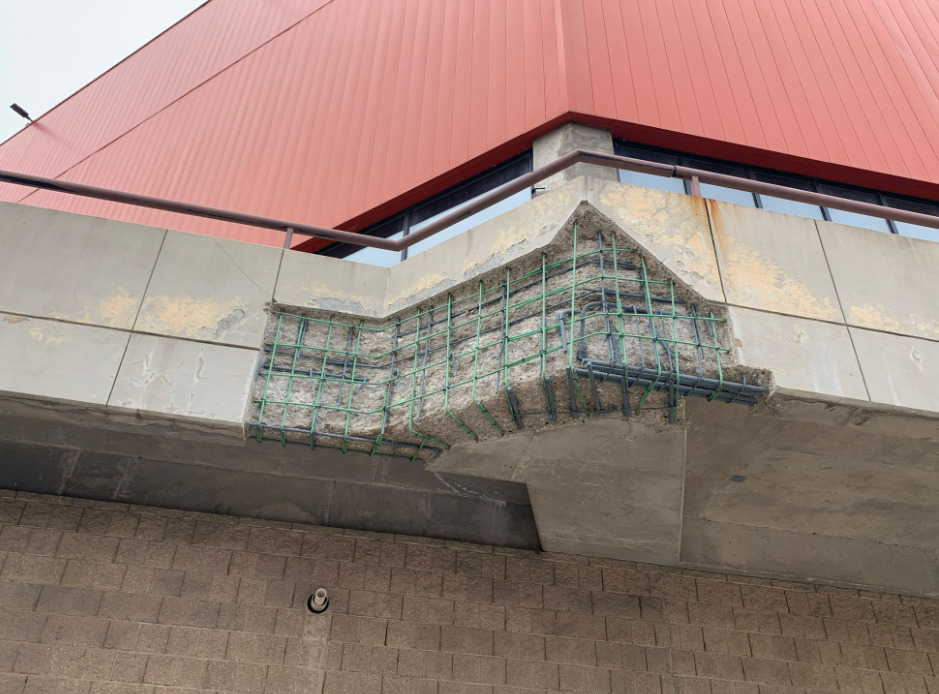 Western Specialty Contractors – Chicago Concrete Branch recently completed concrete repairs at BMO Harris Bank Center, home to the NHL Chicago Blackhawks' AHL affiliate Rockford IceHogs.
The multi-purpose arena in Downtown Rockford, IL, was constructed in the late 1970s with an exterior, reinforced concrete concourse on all elevations. A condition assessment of BMO Harris Bank Center conducted by Wiss, Janney, Elstner Associates, Inc. (WJE) revealed that the split slab waterproofing on the elevated concourse had passed its useful life resulting in water intrusion into the concrete structure. The moisture caused the internal reinforcement to rust, which in turn caused the concrete to delaminate and spall.
Western Specialty Contractors was contracted by venue management and services company ASM Rockford to complete localized concrete repairs at deteriorated locations on the underside and vertical surfaces of the elevated concourse.
Utilizing scissor lifts, Western's craftsmen removed the damaged concrete one elevation at a time, then sandblasted and applied a rust-inhibiting coating to all the internal steel reinforcement.
Western then installed supplemental rebar as directed by WJE to replace any severely corroded or missing reinforcement. Due to the structural design of the concourse, a decision was made to use either form-and-pour or shotcrete methods to place new concrete in each repair location. Western's crew utilized full-height heating enclosures due to cold temperatures to prepare the substrate conditions for the new concrete properly.
The final repair quantities totaled 600 square feet on all four elevations of BMO Harris Bank Center. The project started in October 2022 and was completed in three months, on time and within budget.
About Western Specialty Contractors
Family-owned and operated for more than 100 years, Western Specialty Contractors is the nation's largest specialty contractor in masonry and concrete restoration, waterproofing, and specialty roofing. Western offers a nationwide network of expertise that building owners, engineers, architects, and property managers can count on to develop cost-effective, corrective measures that can add years of useful life to a variety of structures, including industrial, commercial, healthcare, historic, educational and government buildings, parking structures, and sports stadiums. Western is headquartered in St. Louis, MO, with 30 branch offices nationwide and employs more than 1,200 salaried and hourly professionals who offer the best, time-tested techniques and innovative technology. For more information about Western Specialty Contractors, visit https://WesternSpecialtyContractors.com.