(St. Louis, MO, March 14, 2022) Western Specialty Contractors – Chicago Branch has received the 2021 ICRI (International Concrete Repair Institute) Chicago Chapter "Project of the Year" Award for its concrete restoration work at Extra Space Storage in Chicago. Western received its award at the chapter's dinner meeting on February 24.
"Extra Space Storage was chosen as the ICRI Chicago Chapter 'Project of the Year' because it was a unique concrete repair project with multiple construction challenges and historic significance. The building was required to remain fully operational without displacing the tenants, so creative repair techniques were utilized."

Kurt Baron, ICRI Chicago Chapter Vice President and Awards Committee Chair
Originally built in the early 1900s, the Extra Space Storage building at 601 W. Harrison St. in Chicago was once used as the storage location for the Chicago Tribune's delivery trucks. Consisting of three above-grade supported levels and an on-grade basement with approximately 198,000 square feet of total floor space, the structure was constructed with 14-inch-thick conventionally reinforced slabs and 5-inch-thick concrete ramps to allow vehicle access to all floors.
Western was contracted in December 2020 to address slab underside concrete repairs throughout the facility and slab topside repairs on the building's ramps and parking surfaces. All repairs were anticipated to be partial depth only, but due to the severe deterioration of the concrete and failing repairs over the years, these repairs turned into full depth in some areas.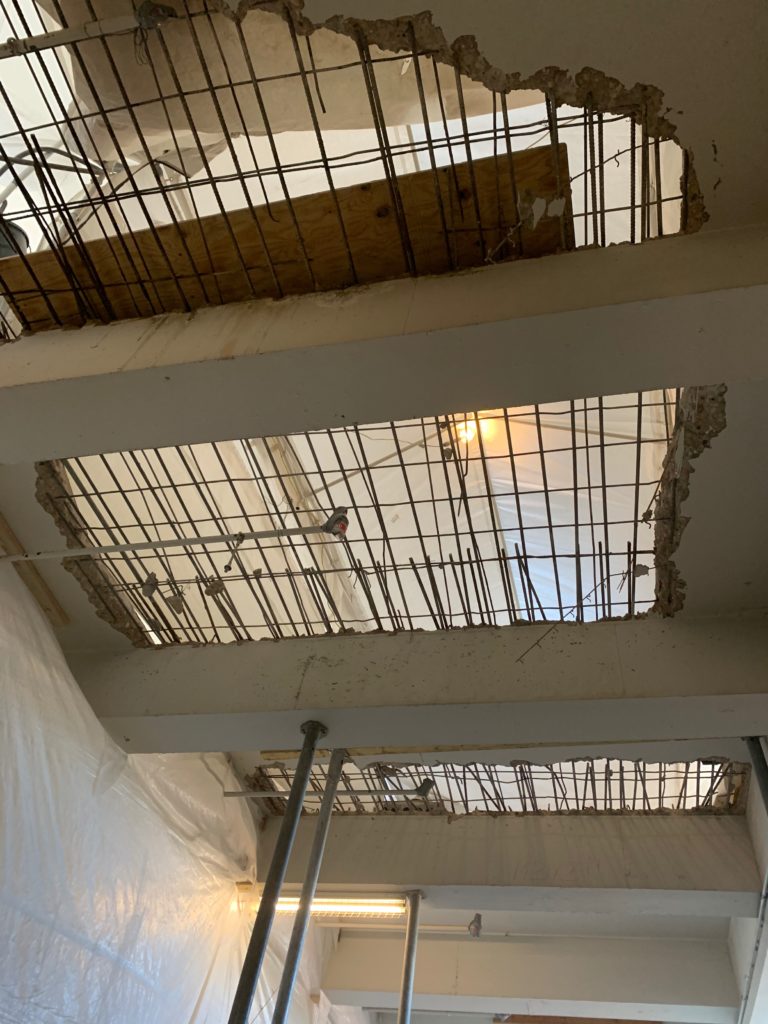 Repairs were completed at 52 locations with the size of the repairs ranging from 5-10 sq ft per location to the largest location at 315 sq ft. Each location needed to have a full enclosure built to contain any debris generated. As an added challenge, most of the repairs were located over occupied storage units, so Western constructed elevated work platforms to access each repair. All repairs were completed using the form and pump method.
Once the concrete repairs were completed, Western applied a traffic bearing membrane to all the vehicular traffic surfaces (approx. 22,000 sq ft), and the underside repairs were painted to match the adjacent concrete.
The final project concrete repair totals:
Topside partial depth repairs – 3,600 sq ft
Full depth concrete repairs – 2,250 sq ft
Underside partial depth concrete repairs – 2,300 sq ft
Galvanic anodes – 1,800
Supplemental dowels added – 700
Supplemental rebar added – 8,300 ft
Western's crew faced several challenges while repairing the storage facility, which continued to operate near full capacity while the work was being performed. All repair locations had full enclosures built around them to contain any dust or debris that was generated and to keep the employees and tenants safe during the project. The work was also phased so access to the entire facility was maintained for the duration of the project. Minimal disruption to the storage lockers was preserved to make sure the owner's revenue stream was not disrupted.
In some of the large, full-depth repair locations where it was necessary to have shoring in place, storage units needed to be vacated. This tenant locker relocation process took 60 days (30-day notice, 30 days to relocate), so constant communication with the facility management was necessary to make sure the notifications went out timely as to not hold the project up. Any area where this was deemed necessary had the work expedited so that the units were not taken offline for long periods.
Additionally, several other contractors were working on other projects in the building concurrently with Western's project. These projects consisted of roof replacement, façade and window upgrades, and locker stall reconfiguration. Constant coordination between all the contractors was necessary to keep all the projects on schedule and to ensure that the sequencing of work was correct. In some instances, Western's schedule and sequencing of repairs were modified to give the other contractors ample time to address their scope of work and have the areas turned over to the building's management on schedule.
"This was a unique and challenging concrete repair project on many levels," said Western Chicago Assistant Branch Manager Matt Ziesemer. "Our footprint needed to have minimal impact on the building's tenants due to its continued operation while repairs were being performed; some of the concrete deterioration was more extensive than originally anticipated, and we had to coordinate our work around several other contractors also doing work. Our team delivered on its expertise and the owner and tenants can feel confident in the work that we performed. We are honored to have our work recognized by the ICRI Chicago Chapter."
Western completed the project in June 2021. The architect/engineer on the project was Klein & Hoffman, Inc. of Chicago and RJP Consulting Group of Indianapolis, IN.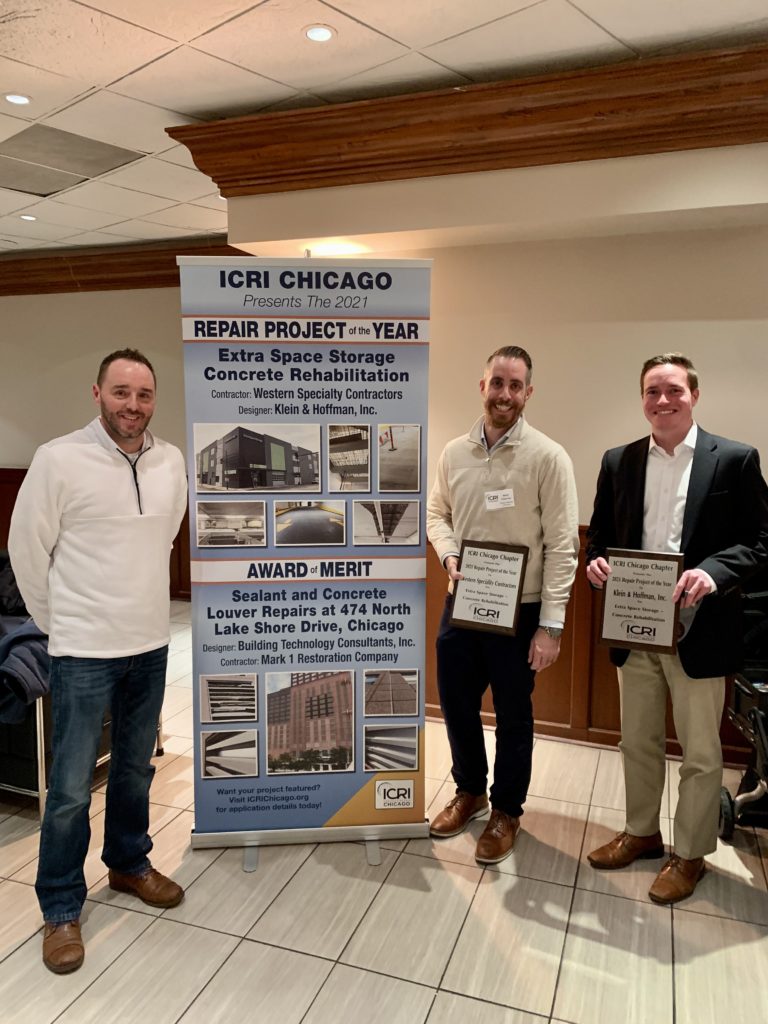 About Western Specialty Contractors
Family-owned and operated for more than 100 years, Western Specialty Contractors is the nation's largest specialty contractor in masonry and concrete restoration, waterproofing, and specialty roofing. Western offers a nationwide network of expertise that building owners, engineers, architects, and property managers can count on to develop cost-effective, corrective measures that can add years of useful life to a variety of structures including industrial, commercial, healthcare, historic, educational, and government buildings, parking structures, and sports stadiums. Western is headquartered in St. Louis, MO with 30 branch offices nationwide and employs more than 1,200 salaried and hourly professionals who offer the best, time-tested techniques and innovative technology. For more information about Western Specialty Contractors, visit https://WesternSpecialtyContractors.com.