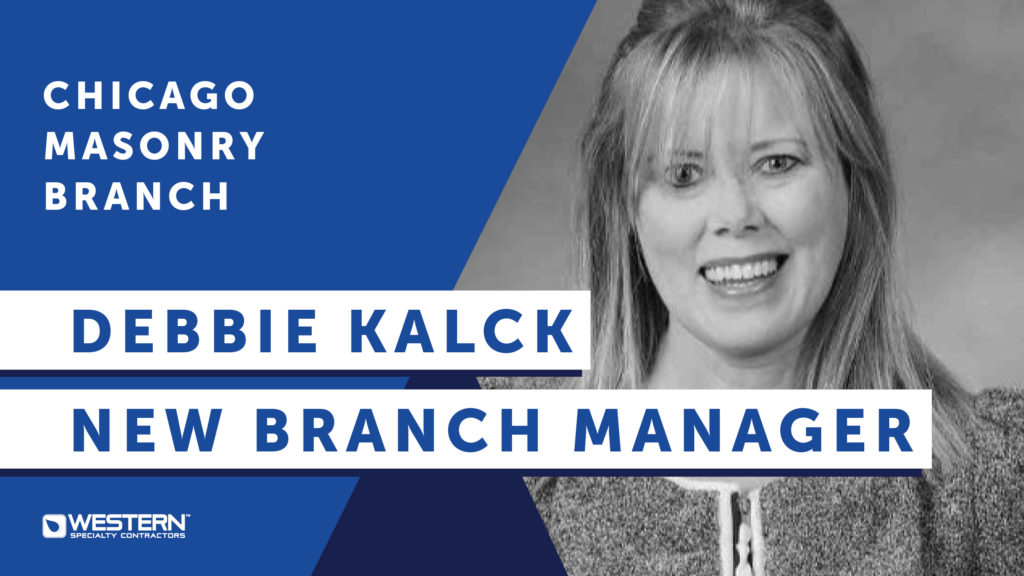 Western Specialty Contractors announces the appointment of Debbie Kalck as Manager of its Chicago Facades Branch.
In her new position, Kalck is responsible for managing sales, daily operations, and field personnel, plus developing new projects within her branch's territory. Western's Chicago Facades Branch, established in 1982, offers the following services to customers in the Chicago area: building cleaning, concrete restoration, epoxy, and chemical grout injection, expansion joint systems, exterior wall coatings, masonry restoration, parking, and plaza deck restoration, and waterproofing.
As a female in traditionally male-dominated industries, Kalck said she appreciates Western's dedication to diversification and celebrates their initiative to seek diverse candidates to join their team in all aspects of the business. She believes the strongest teams are built with diversity and unique abilities.
"Debbie's ability to connect with people, her positive energy, and drive for growth made her the perfect fit to lead our Chicago Facades team," said Justin Berndt, Western Specialty Contractors Midwest Region Operations Manager. "She has an extensive background in finance, construction, sales, restoration, training, and development, and has spent a large part of her career leading successful teams in multiple industries. Debbie's vision of team success and her customer focus aligns well with our company's culture and core values, and we're excited to have her join our Western family to see what she will bring to the Chicago Facades Team."
Prior to Western, Kalck was Director of Operations for nearly five years at LMC Construction, Inc. During her time with the Chicago masonry contractor, she became a Certified Manager of Community Associations, Certified Lead Renovator, and obtained concrete and masonry licenses. In addition, she worked for three years as an Account Executive for a large Chicago-based commercial flooring contractor.
Kalck also has more than 24 years of experience managing customer investments and teams in the financial sector, having worked for Morgan Stanley, MetLife, and Merrill Lynch.
When I took a pause from my financial career, I connected with several of my construction industry clients to provide consulting services – that is how I transitioned into construction operations. Construction is deeply financially focused, and I love collaborating with teams and working with numbers, so Western's Branch Manager position was a great fit for me," she said. "I find the façade restoration aspect of construction fascinating; façade work is artwork. As an environmentalist, I also see the value in preserving the structure and beauty of old buildings.
Kalck attended Valparaiso University in Indiana and Carthage College in Wisconsin. She and her husband Rob have two children – daughter Lakin who is pursuing Environmental Law at Indiana University and son Cullen who has an environmental position as a project manager.
When not working, Kalck enjoys running, self-sustaining gardening, and volunteering at her local animal shelter.
About Western Specialty Contractors
Family-owned and operated for more than 100 years, Western Specialty Contractors is the nation's largest specialty contractor in masonry and concrete restoration, waterproofing, and specialty roofing. Western offers a nationwide network of expertise that building owners, engineers, architects, and property managers can count on to develop cost-effective, corrective measures that can add years of useful life to a variety of structures including industrial, commercial, healthcare, historic, educational, and government buildings, parking structures, and sports stadiums. Western is headquartered in St. Louis, MO with 30 branch offices nationwide and employs more than 1,200 salaried and hourly professionals who offer the best, time-tested techniques and innovative technology. For more information about Western Specialty Contractors, visit www.WesternSpecialtyContractors.com.